Trustee Spotlight: Nick Ebbeck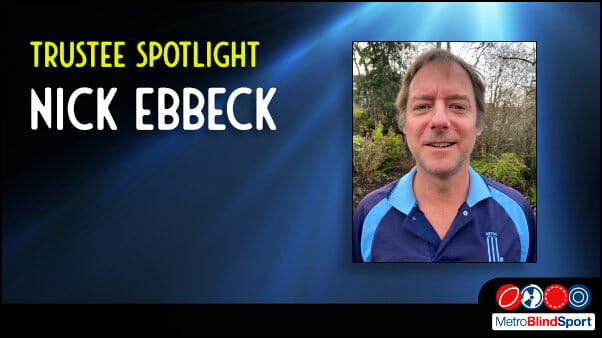 Nick Ebbeck is the newest of our trustees and we are lucky to have him, Nick has spent most of his career working in Human Resources, mainly in the UK and Australia!
He has also travelled extensively for work and has held many roles over this time, mainly in the compensation area, for national and international companies.
Nick is visually impaired and began losing his sight in his twenties. When not playing cricket, more on that below, he spends his time with his wife and two young daughters and enjoys general fitness, travel and gardening.
There is no doubt that Nicks favourite sport is cricket!
Nick became involved with Metro through attending the VI cricket nets at Lords and has been a committed Metro cricketer ever since.
Not only does Nick play cricket whenever he can, but now assists with the running of the two Metro cricket teams. He is a passionate believer in how sport can improve the confidence, wellbeing and lives of blind and visually impaired people.
You can listen to Nick talk about his experiences with Metro and playing cricket in the audio podcast below. Enjoy!
If you are feeling inspired to try VI cricket,  please do contact Martin Email: martin.symcox@metroblindsport.org Tel no.0750 895 8927 or chat directly to our cricket sport lead, Rory Field, Email: Rory Field  Tel no. 0774 232 3224
Metro Cricket Players and the ICC Cricket World Cup Trophy Photographer Stephan Gardiner
Hopefully, we all can get back to the nets for some proper cricket practice as soon as possible! When we get the all-clear!   Check below for quick links to some of our cricket content!