Member Spotlight: Wilbert Williams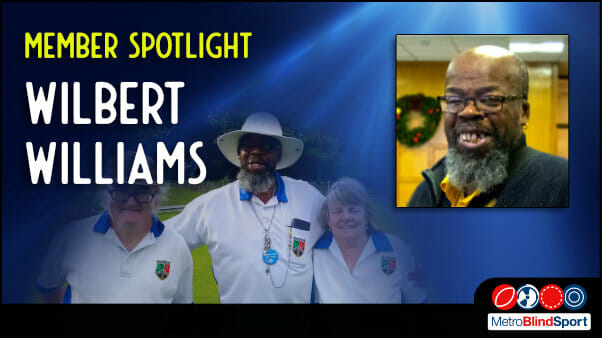 I didn't realise what was possible when people lost their sight, but now, I know what's out there; there's so much you can do!
Wilbert Williams, an avid bowls tournaments player, shares his journey with Metro Blind Sport.
Recently Wilbert took over as our bowls sport lead, and he is an excellent ambassador, encouraging, welcoming, and a natural at supporting new players learn blind and partially sighted bowls. We are lucky to have him!
Fully sighted until 2015, Wilbert was a bus driver for TfL for over 20 years until his eyesight gradually deteriorated, leading to a visit to the eye hospital. Diagnosed with Glaucoma, one of the leading causes of sight loss in the UK, Wilbert took early medical retirement.
Wilbert wanted to do more and keep active. He found just what he needed with the help of the RNIB and the Beyond Sight Loss Group of Tower Hamlet's 'Introduction to bowls taster session' delivered by Metro's bowls sport lead Eric Gallagher.
Since then, Wilbert has been one of the most recognised faces amongst the charity.
For Wilbert, taking part in a low effort activity was top of his list when picking a sport.
'I used to watch bowls and liked how it was a gentler sport than the others with not too much exertion! … and I said to myself, I want to get involved in that and give it a try. That's where I came across Metro and been playing ever since.'
Six years on, Wilbert is a prominent bowls player and keen archer and shared why it's so important to him to be involved in each of the sports
'The social side of it (bowls) is great, everyone is friendly, and it's good to get out and about, see other people. I enjoy the tournaments too, as you meet loads of different visually impaired people from across the country and find out about their stories… winning the tournament is fun too, but for me, that is just a bonus of taking part! … then there's archery which I go to mainly because it's a lot of fun!'