original Article from news.sky.com
Great Britain has now won 34 gold medals – matching the team's haul during the entire Paralympic Games in London four years ago.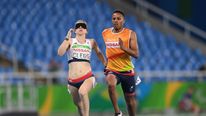 Paralympics GB won three more gold medals on Tuesday evening – stunning their competition in the swimming and the athletics.
There was gold for Matthew Wylie in the 50m S9 freestyle, and another for Stephanie Millward in the women's 100m S8 backstroke.
Libby Clegg and her guide Chris Clarke have also won their second gold medal of the Rio Games – coming first in the 200m T11 sprint following their victory in the 100m race.
During the last Paralympic Games in London, Great Britain won 34 gold medals over 11 days.
Just six days into the current competition in Rio, Paralympics GB have already matched this – with further champions set to emerge between now and Sunday.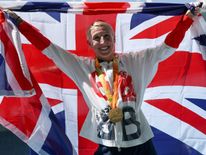 Earlier in the day, Georgina Hermitage won a second gold medal and a second world record in the 400m T37 race.
Hollie Arnold also showed her competitors who's boss when it comes to the javelin throw, winning gold in the F46 classification.
And Rob Davies served up a second gold medal for Paralympics GB in the table tennis by defeating Korea's Young Dae Joo in the singles Class 1 final.
Paralympics GB also have 18 silver medals to their name, with Ollie Hynd storming through and finishing second in the men's 100m S8 backstroke – achieving a personal best and a British record in the process.
Meanwhile, Piers Gulliver won silver in the wheelchair fencing Epee A category, which is Paralympics GB's first medal in the sport for 24 years.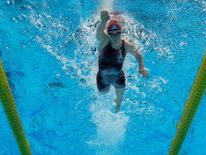 Earlier, swimmer Ellie Simmonds came away with a bronze medal after the 400m S6 freestyle – hot off the back of her gold medal in Monday's 200m SM6 individual medley.
Over in the wheelchair tennis, Jamie Burdekin and Andy Lapthorne also won bronze – as did Lucy Shuker and Jordanne Whiley in the women's competition.
Stephen Miller also kept the momentum up in his sixth Paralympics Games with a bronze medal in the F32 club throw.
When Paralympics GB's 23 bronze medals are added to the tally, the team now has a total of 75 medals.
Although that's some way behind China, who have an astounding 63 golds and 147 medals overall, Great Britain is comfortably ahead of Ukraine.